MARIJUANA HANDLERS™ – Lesson Introduction – MHC/100

Learn identification requirements, various types, methods of use and how to identify for authenticity.
MARIJUANA HANDLERS™ – Lesson Outline
Access Restricted at Retail Marijuana Store
The Regulation Marijuana
Massachusetts Drivers License Overview
Common Access Card Overview
Fake ID Training Video
Helpful Hints When Checking ID
Lesson Key Points
Lesson Quiz
MARIJUANA HANDLERS™ – Lesson Goals
Student should be able to recognize authentic identification.
Student should be able to identify the various types of identification used by consumers.
Student should know the laws and requirements for proper identification usage.


---
ACCESS RESTRICTED AT RETAIL MARIJUANA STORE
(a) A person under the age of 21 may not enter a retail marijuana store.
(b) Each entry must be posted with a sign that says "No one under 21 years of age allowed."
(c ) An area of a retail marijuana store's licensed premises where marijuana or any marijuana product is stocked for sale, or dispensed for sale, is a restricted access area.
(d) The retail marijuana store must post signs, require identification, and escort visitors
REGULATION OF THE MARIJUANA INDUSTRY
Identification requirement to prevent sale to person under 21.
(a) Store shall refuse person's who do not produce valid PHOTO identification showing person's 21 years of age or older.
(b) A valid form of identification includes:
Unexpired, unaltered passport;
Unexpired, unaltered driver's license; instruction permit, identification card of U.S.A, DC or Canada;
Identification card issued by a federal or authorized state agency.
---
MASSACHUSETTS DEPARTMENT OF PUBLIC HEALTH
MEDICAL USE OF MARIJUANA PROGRAM CARD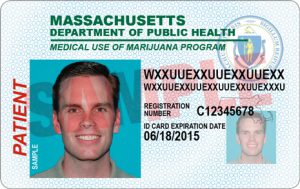 ---
MASSACHUSETTS DRIVERS LICENSE CARD
REAL ID is a Federal Security Standard for IDs that was created in 2005 as a result of increased federal security measures after the September 11, 2001 terrorist attacks.
After October 1, 2020, you will need a REAL ID or a passport to fly within the United States or enter federal buildings.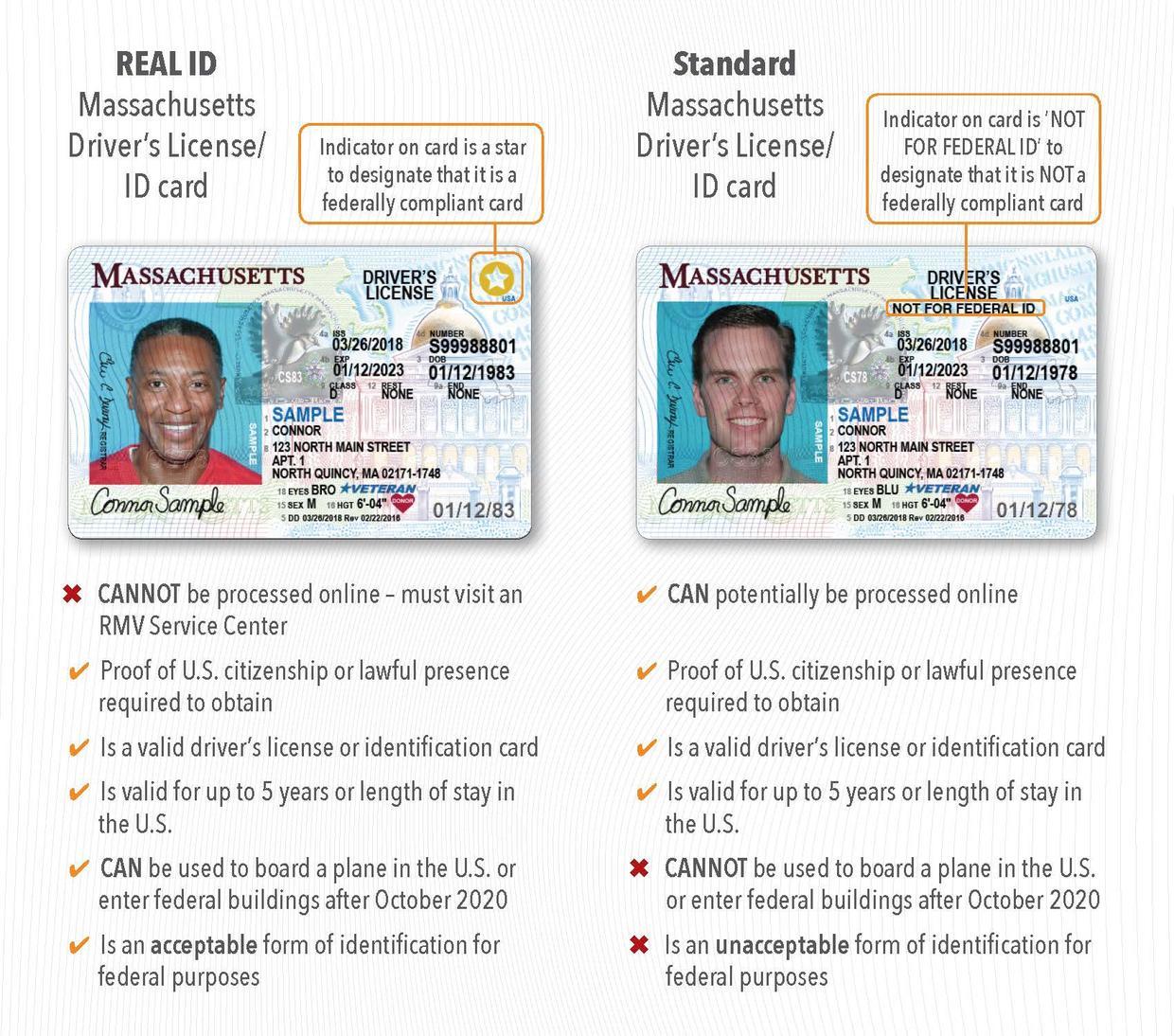 Security Features
Security features in the Massachusetts ID and driver's license design, including federally-required REAL ID features (which all MA IDs will contain by 2020, the future deadline for individuals to board a plane or enter a federal building) include:
Second bar code on the reverse side that contains demographic information from the front
Raised lettering of cardholder's initials and birth year
Laser perforation and engraving
Ultraviolet (UV) ink only visible under ultraviolet light
A Kinegram® (foil-based optical security image)
Laser Write – cardholder's initials and year of birth appear within the Kinegram®. This feature can also be viewed when backlit, using a flashlight.
Multiple data placements -The individual applicant's data is placed at various locations on the front and back of each document.
---
COMMON ACCESS CARD (CAC) – (FEDERAL/MILITARY)

The CAC, a "smart" card about the size of a credit card, is the standard identification for active duty uniformed service personnel, Selected Reserve, DoD civilian employees, and eligible contractor personnel. It is also the principal card used to enable physical access to buildings and controlled spaces, and it provides access to DoD computer networks and systems. http://www.cac.mil/common-access-card
CARD FRONT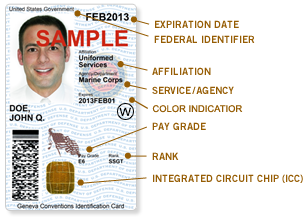 CARD BACK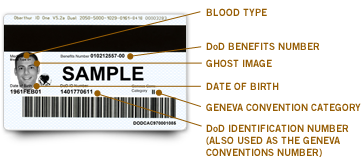 ---
FAKE ID TRAINING

---
Helpful Hints When Checking ID
Do not rely entirely on a customer's appearance or behavior when checking identification!
Some minor males may have beards and mustaches.
Some may have bald or shaved heads.
Some minor males are big, which may make them appear older.
Some minors will make direct eye contact with you while lying about their age.
Some minor females may wear makeup or clothing that makes them appear older.
However, keep in mind that some minors might appear nervous, may not make eye contact with you, may not have facial hair, or may have smooth, unlined faces.
Ask the customer to hand you the ID so you can closely examine it.
Look for signs that the ID has been tampered with.
Some signs are: irregular laminations; anything other than a smooth surface; bumpy or raised surfaces by the picture; cuts anywhere on the ID; changes to birth dates, expiration dates or "minor until" dates.
Look at the printing type on the ID.
Do all letters and numbers appear the same?
Compare the picture on the ID to the person before you.
Do they look the same?
Does the physical description on the ID match the person standing before you?
(Remember that weight and hair may change, but height rarely will.)
Check the expiration date.
If the ID has expired, it is unacceptable.
Check for a signature.
Do not accept without a signature.


---
Without giving the person the ID, ask them some quesitons.
Examples:
What is your address?
What is the zip code?
Spell your middle name.
What is your date of birth?
Ask their age.
Ask when they graduated from high school.
An important thing to remember is that minors come in all shapes and sizes.
Think about it.
You cannot tell by a person's face, clothes or behavior alone how old the person may be.
Help eliminate the guesswork:
Don't sell unless you're sure!
MARIJUANA HANDLERS™ – Key Points
A person under the age of 21 may not purchase marijuana products.
A person under the age of 21 may not enter a retail marijuana store.
Valid identification (ID) must be presented.
Valid ID includes the following: unexpired, unaltered passport, unexpired, unaltered driver's license; instruction permit, or identification card of any state or territory of the United States, the District of Columbia, or a province of Canada, an identification card issued by a federal or state agency authorized to issue a driver's license or identification card.
Don't sell unless you're sure!